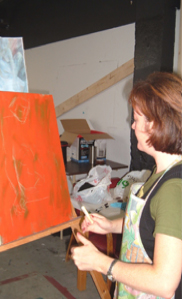 Artist Statement
In my work, I am primarily interested in the representation of the body. Nudes and portraits comprise the majority of my portfolio, though I am interested in florals and landscapes as well for the colour and textural possibilities that they present. I enjoy working with a variety of media, from conté, charcoal and pastels to watercolors and acrylics, though most of my works are oils. Oils offer me the greatest potential for exploring texture as well as the richest colours. I view the human form as a basis from which to explore shape and texture; by working and reworking the nude, I am searching for an esthetic ideal that can exist independently of the original subject. The body abstracted or expressed as it were.
Background
I am primarily self-taught, though I have been fortunate enough to have also had some excellent instructors in Newfoundland and in France, including:
The instructors at L'École C Cape, a fine arts school in Nice, France I attended for a year in 2004.
In 2005 and 2006, I also participated in some intensive workshops on portraiture and life drawing with Mr. Gerald Squires. In addition to this course offered through MUN Continuing Studies, I have also taken courses in the past with Newfoundland artists Mr. Jim Maunder, Ms. Julia Pickard and Ms. Janice Udell.